The infamous banana: 'Comedian' by Maurizio Cattelan's, recreated by Absolute.
The world famous Comedian by Maurizio Cattelan has caused a frenzy both inside and outside the art world.
What's all the fuss about?
Maurizio Cattelan's Comedian, priced at $120,000, immediately gained attention whilst on display at Art Basel Miami Beach for its apparent ridiculousness.
For some it symbolised the wealth flaunting and gullibility exhibited by the purchasers of contemporary art pieces, whilst for others it was an inspiring example of conceptual contemporary art. The subjective interpretation of art and the varying spectrum of opinion that one work can create was exemplified in this piece.
Thanks to its intriguing and opinion inspiring nature, along with its seemingly absurd price tag, the piece began to draw large crowds of fascinated fair-goers, causing concerns over health and safety. The banana's real thrust into fame, however, came when performance artist, David Datuna, walked up to the conceptual fruit piece, removed it from the wall and proceeded to peel and eat the banana in front of the crowd of shocked onlookers.
The gallery replaced the banana after the incident, however the frenzy that had now been created meant that the event organisers took the decision to remove the work permanently on the Sunday due to the safety concerns.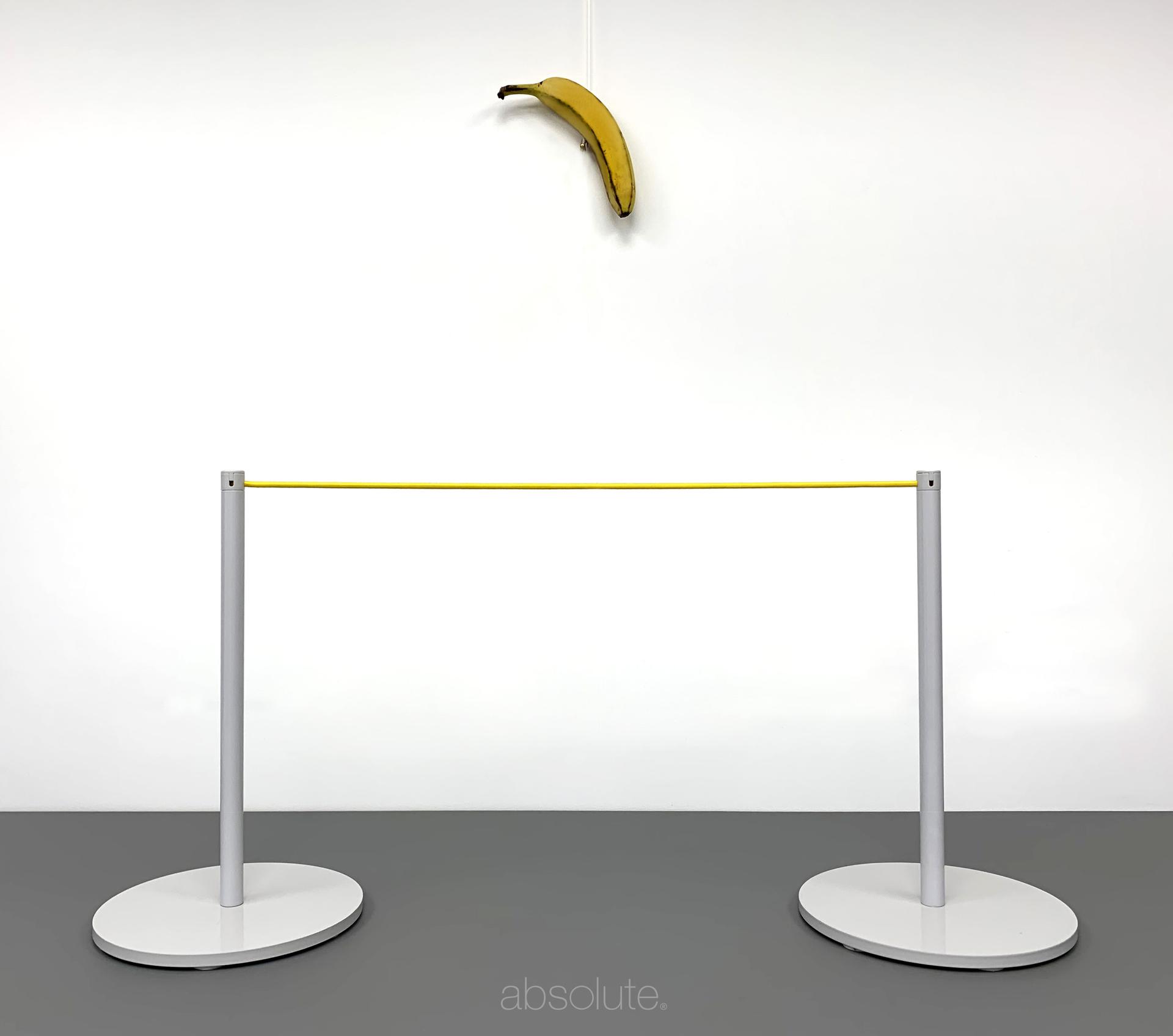 'Absolutely Bananas' - At least this one's safe!
The punny undertone in the lack of adequete protection along with the cruedeness of the wall fixing meant that it was impossible for us not to create our own version our Cattelan's famous work, which we have named 'Absolutely Bananas!'
We have used our virtually invisible Perlon Cord to hang the banana, and protected it using our Essential Stanchion with banana-matching yellow Elasticated Cord.
Show us your interpretations
Have you made your own version of Cattelan's genius Comedian? Tag us in your posts on social media - we'd love to see!